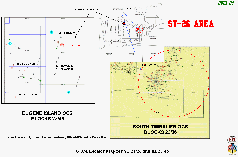 DvC1-04 (ST26, EI27 Index Maps)
Figure DvC1-04 shows an index map for two geophysical case histories, at South Timbalier adjacent OCS Blocks 23 and 26, and Eugene Island adjacent OCS Blocks 27 and 46. The present discussion gives special emphasis to:
Comparisons between conventional interpretation views (two-dimensional, one vertical- or horizontal [time]- or horizon-slice, at a time) and the D3DSP volumetric views, plus possible volumetric evaluation techniques, with some multi-frame "animations". We show a comparison of the ST-26 "O" Sand subsurface-and-production-data reservoir facies compartments (a "quilt"), and the large D3D-impedance CIO representing the same reservoir, with yellow coloring the lowest D3D-impedance VOXEL-samples ... interpreted to be un-produced, or "bypassed", petroleum compartments, when the OBC-spec-survey was shot, in 1995.
Known (logged and produced) petroleum accumulations that were present, but not yet fully drained, at the time the two (non-streamer) marine seismic data sets were acquired, in 1997 and 1995, respectively.
Published cumulative production data, from wells produced after the applicable 3-D data were acquired.