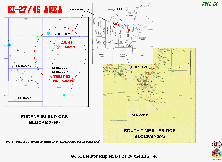 DvC2-04
Figure DvC2-04 shows an index map for two geophysical case histories, at South Timbalier adjacent OCS Blocks 23 and 26, and Eugene Island adjacent OCS Blocks 27 and 46. The present discussion gives special emphasis to:
Comparisons between D3D-impedance images and "twin" conventional images.

Comparisons between conventional interpretation images (created using one-at-time, 2D vertical- or horizontal [time]- or horizon-slices), and the D3DSP volumetric CIO-driven images ... plus available volumetric evaluation techniques and multi-frame "animations".

Known (logged and produced) petroleum accumulations that were present, but not yet fully drained, at the time the marine OBC seismic data set was acquired.

A necessarily brief and incomplete discussion of D3D predictions for the thickness (feet) and volume (acre-feet) that would be found by subsequent drilling.

Published cumulative production data, from wells produced after the applicable 3D data were recorded.